Designing News
by Francesco Franchi
Francesco Franchi's perceptive book about the future of the news and media industries in our digital age.
In Designing News, award-winning editorial and infographics designer Francesco Franchi conveys his vision for the future of the news and media industries. He evaluates the fundamental changes that are taking place in our digital age in terms of consumer expectations and the way media is being used. The book then outlines the challenges that result and proposes strategies for traditional publishing houses, broadcasting companies, journalists, and designers to address them.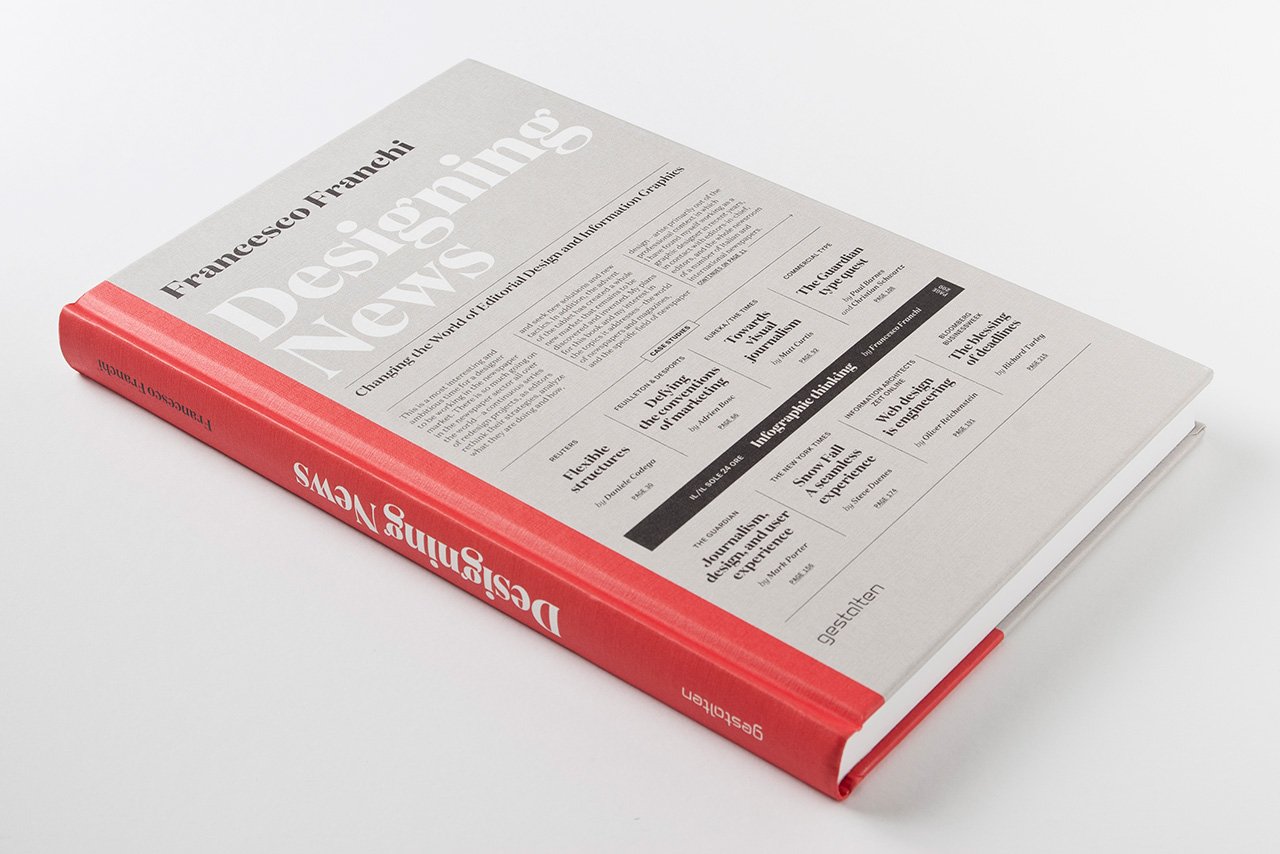 By:
Francesco Franchi
Publisher:
Die Gestalten Verlag
Release Date:
September 2013
Format:
18,6 x 30 cm
Features:
240 pages, full color, hardcover
Language:
English
ISBN:
978-3-89955-468-7
Catalog Price:
€49.90 / $78.00 / £45.00
Franchi's findings in Designing News are based on his own work for Il Sole 24 Ore as well as case studies by the top media insiders Richard Turley of Bloomberg Businessweek, Daniele Codega of Thomson Reuters, Steve Duenes of The New York Times, Mark Porter formerly of The Guardian, Matt Curtis of The Times, Oliver Reichenstein of Information Architects, Adrien Bosc of Feuilleton and Desports, and type designers Paul Barnes and Christian Schwartz.
Designing News explores how today's media outlets can become credible, cross-platform news brands. Franchi advocates redefining reporting as telling a continuous narrative across a broad range of traditional and digital media. To this end, he proposes a new, integrated role for editorial designers in advancing the evolution of media for the future.
«Designing News is a complete and well-illustrated dissection of the state of the world of information circa 2013. Why everyone working in the media today should read it!» — Mario Garcia
«An investigation into the future of designing news by one of its leading exponents … an important, timely book with a wealth of examples.» — Creative Review
«A wonderful exposition of the theory and engineering of editorial design, defining it almost as science.» — Jeremy Leslie, Magculture

Designing News has been selected like notable "Theoretical, historical, critical research and publishing project" for the ADI Design Index 2014.
ADI Design Index is the annual selection of the best of Italian Design and is an integral part of the system of selection for the ADI Compasso d'Oro Award: each year, through the ADI Permanent Design Observatory — a working group made up of more than one hundred experts, also drawn from outside the association — it examines the design of new products that have gone in production.
Download the fact sheet of the book
More about this book
With Designing News, Franchi conveys his vision for the future of news and the media industry. Based on personal insight and experience, he offers valuable analysis and perspectives on the fundamental changes that are taking place in the way media is being used. Franchi explores consumer behaviors and expectations that represent the biggest challenges facing traditional publishing houses and broadcasting companies as well as journalists and designers.
For Franchi, reporting is not merely filing a story once, but rather telling a continuous narrative in a way that is most relevant for a broad range of traditional and digital media—from breaking news to analysis, from interviews to commentaries, and from photo essays and illustrations to information graphics and interactive visualizations of data. In this book, Franchi explains the ramifications of this development and how newspapers can become credible, comprehensive news brands.
In Designing News, Franchi also outlines a new, integrated approach for editorial designers. If they show enough dedication, creativity, and talent for interdisciplinary teamwork, Franchi sees editorial designers as playing a key role in advancing the evolution of media.
© Die Gestalten Verlag GmbH & Co. KG, Berlin 2013
Photos by Malvina Monteggia
Press Contact
Die Gestalten Verlag
Mariannenstr. 9-10
10999 Berlin — Germany
+49 30 726 13 2024
press@gestalten.com
Bookstores
List of recommended shops
List of Gestalten's partner shops
Sales Contact
Designing News is available worldwide through Gestalten global network of distributors and sales representatives. To place an order: sales@gestalten.com
Media Coverage & Reviews